Makeup and Wig Tutorials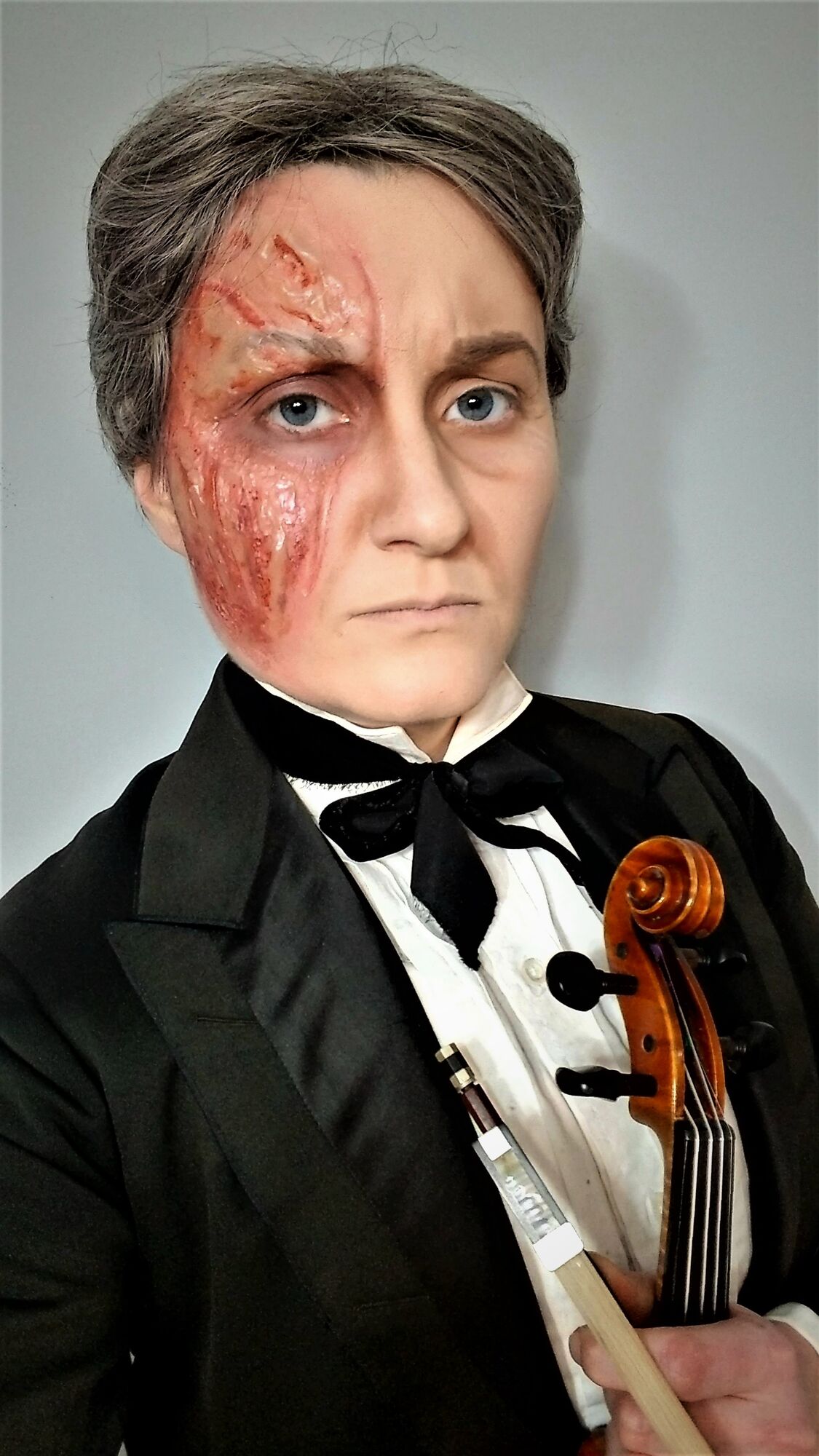 Getting Started:
First thing is first, take a look at your wallet! Makeup supplies (unfortunately) are very costly and can rack up quite a bill, so budget accordingly. The whole premise of these tutorials is to offer some insight into creating these effects with some low-budget, basic materials. From here you can only get more sophisticated and technical with lifecasting, sculpting, mold making, and using materials such as foam latex, silicone, foam gelatin, etc to create the prosthetics. However, the average Halloween goer looking to be the Phantom probably is not interested in all that. So, in the spirit of keeping things simple, here are three basic tutorials geared for you.
I always think it's a great idea to sketch out what you want the deformity to look well ahead of time, so you can decide what supplies you'll need and to give yourself a "road map" when you're putting it on. Below are three separate makeup schemes. Each pages includes a supply list and step-by-step instructions.
About Face: Makeup and Hair for your Phantom Costuming
Please see the video below for the FULL Phantom of the Opera makeup workshop I hosted at Phantom Con (8-9 August, 2015). Includes information about makeup design and safety, various three-dimensional makeup materials (such as gelatin and liquid latex, as well as nose/scar wax, rigid collodion, and 3D transfers), two-dimensional makeup, eyebrow covers and adhesives, wigs/hair, and question/answer session. A comprehensive resource for anyone just starting out! If you are just getting started in stage/special effects makeup for Phantom, watch this video first and then check out the tutorials below!
Tutorials: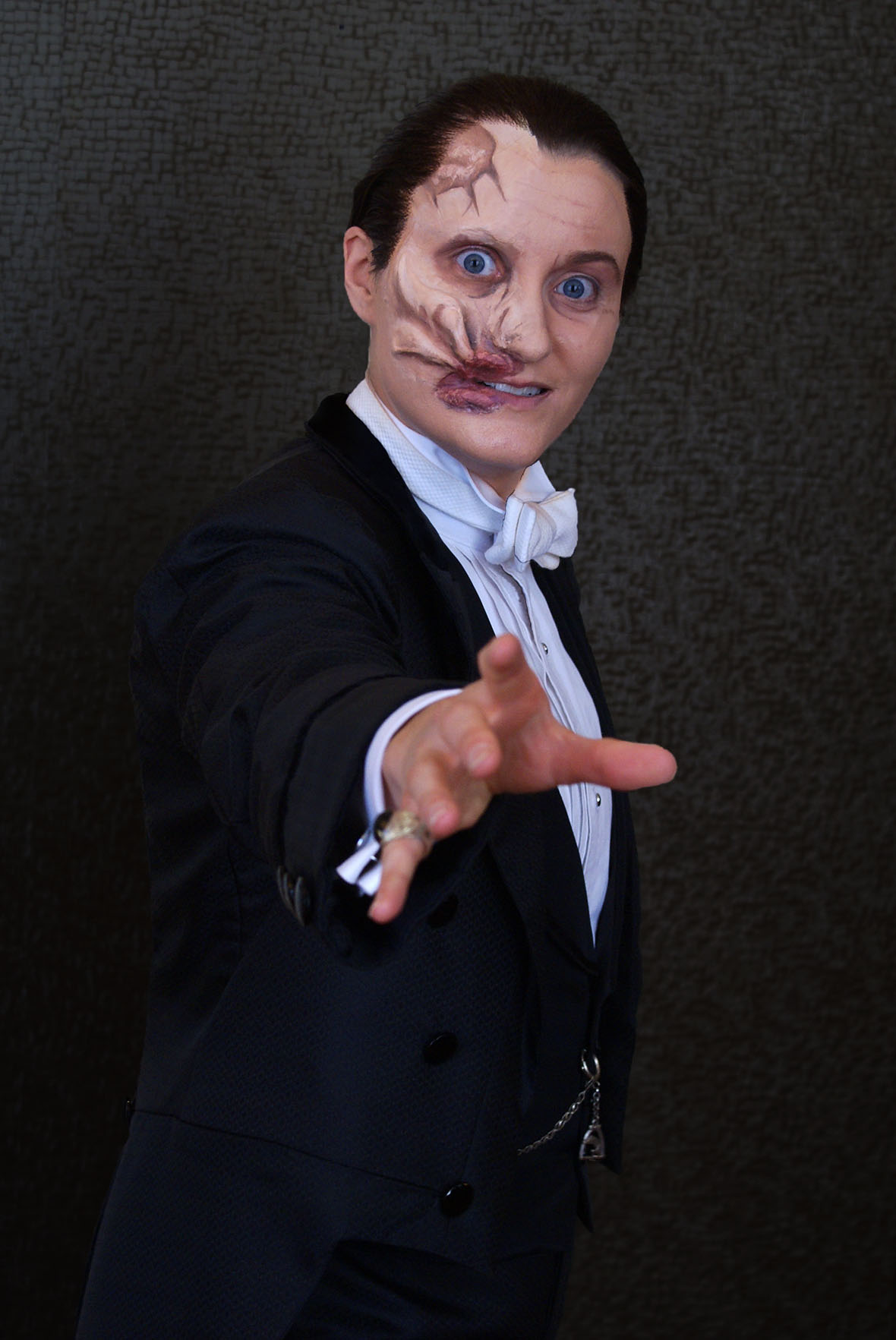 Andrew Lloyd Webber Stage Makeup (Liquid Latex)

Prosthetic Pieces for Stage Makeup Scheme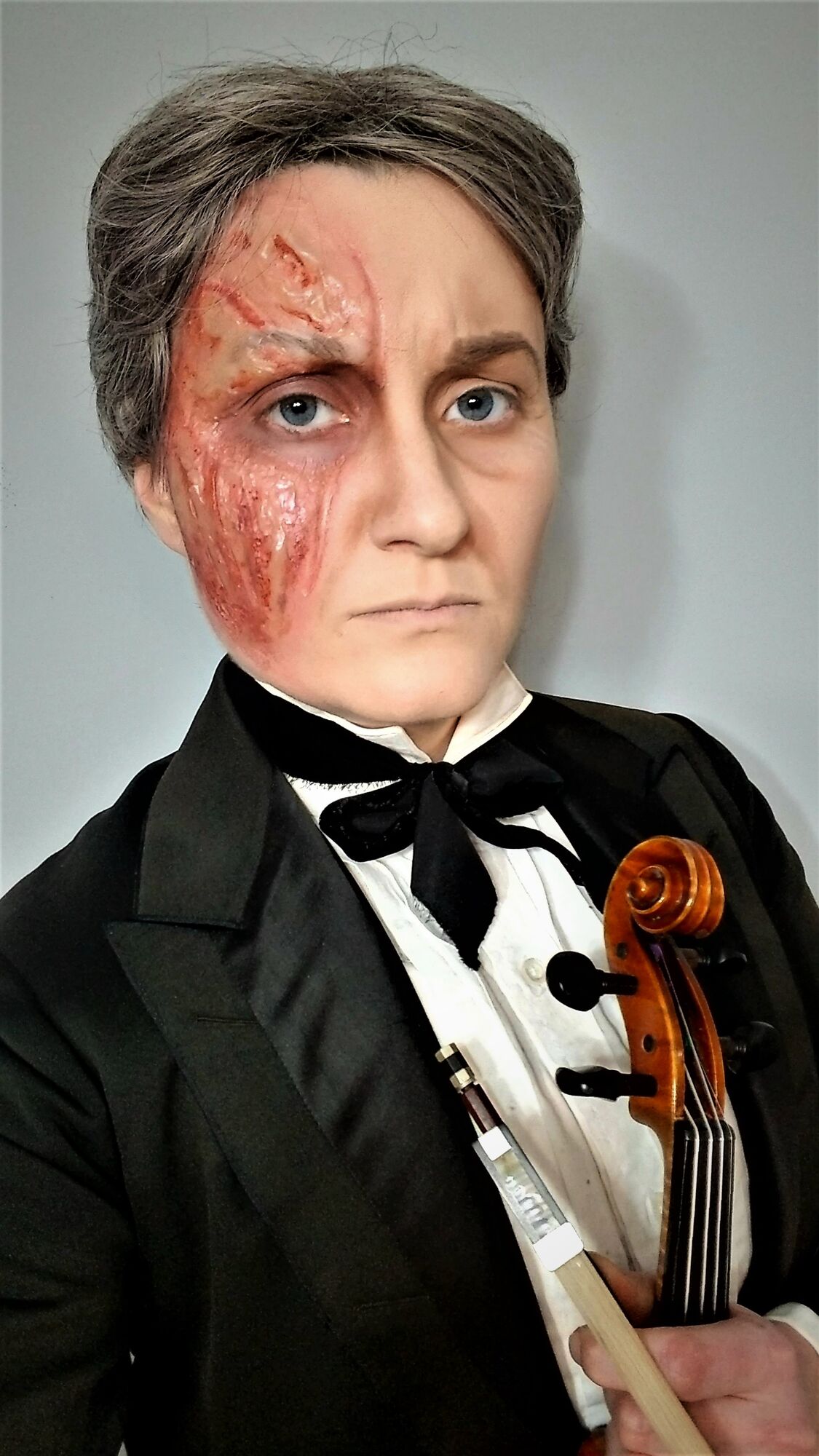 Claude Rains Makeup Tutorial (Silicone)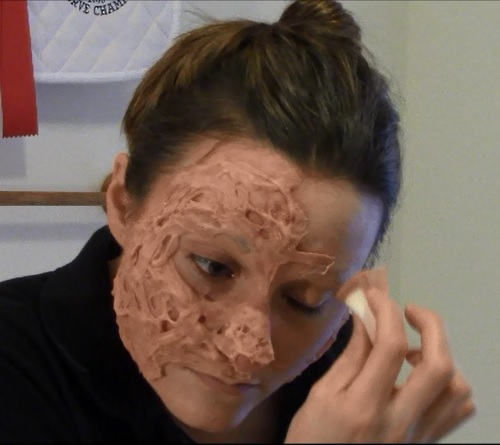 Robert Englund Makeup Tutorial (Gelatin)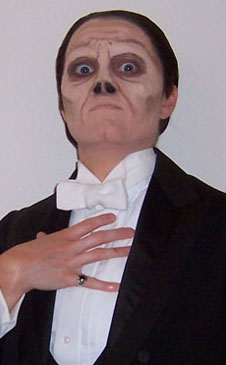 Lon Chaney/Gaston Leroux Makeup (Liquid Latex)

The Making of the Phantom's "Valentino" Wigs
Check out this page to learn more about how I created my two replica Phantom wigs. Both wigs are fully hand tied, full lace wigs created in the same fashion as the ones on Broadway.

Hair and Wigs for Your Phantom Costume/Cosplay
Most people simply style their own hair, or buy a costume-grade wig from a Halloween/costume store. Those can run anywhere from $20-$80, depending on the type of wig and the material it's made out of. The downside of costume-grade wigs is that they have a blunt, unrealistic looking hairline that is not well suited to the Phantom's slicked back style. You could theoretically create your own custom hairline on a commercial wig by installing a lace piece to the front, and venting hair onto it. This is also labor intensive, but not nearly as bad as making a full wig from scratch! These days, lace-front wigs are much more common and much more affordable, often selling for $200 or less for a quality lace front, synthetic wig. I think today's lace-front wigs are a great compromise of cost and style, and that is where I suggest you begin if you want a pretty realistic wig, without having to spend a great deal of time or money.

VIDEO: Phantom of the Opera Wigs and Hair
VIDEO: Phantom Wig Making on a Budget
---
Where Can I Buy Theatrical and Special Effects Makeup?
There are numerous places you can purchase the supplies to create your own Phantom makeup. Most Halloween stores carry basic supplies like liquid latex, theatrical foundation, spirit gum and remover, etc. Look for them online, or visit the local Halloween store to find out more. Some online stores specialize in these products, and are certainly worth a look. Here are just a handful of websites to get you started on your search:

- FX Warehouse, Inc (Great list of products and helpful instructional guides)
- FX-Supply.com (Another fantastic resource with tutorials and comprehensive catalog)
- Stage Makeup Online
- Stage and Theatre Makeup.com
- Mallatts.com