Phantom Costuming and Cosplay

Welcome to the new and improved Phantom Costume page! Here you'll find all the information you will need to start your Phantom costuming/cosplay experience. And yes, the information below is useful for all characters from the story, not just Erik/The Phantom. If you have specific questions, please email me at Phantom@phantomonabudget.com.

BroadwayCon 2017 - "Curtain Up on Cosplay!"
I was invited by the organizers of BroadwayCon, the world's largest theatre/Broadway fan convention, to host a cosplay panels in 2017 and 2018. I chose four other experienced Broadway costumers (and cosplayers to join me and discuss how to get started in the fun world of cosplay. You can watch the full 2017 and 2018 panels below!
BroadwayCon 2020 - "So You Want to Be A Cosplayer?"
I returned to BroadwayCon in 2020 and was one of the panelists on the "So You Want to Be a Cosplayer?" panel, hosted by Em Hough. Other panelists include Iyana Colby and Cyandra Bennett. Full panel is below:
West End MusicalCon 2022
I made my international cosplay panel debut in October 2022, when I hosted "Lights, Curtains, Cosplay!" at London's first-ever MusicalCon at the ExCel Center. I was joined by the amazing cosplay artists, @journeytothelair (United Kingdom), @nova_cosplay_ (United Kingdom), and @daeriscosplay (Netherlands).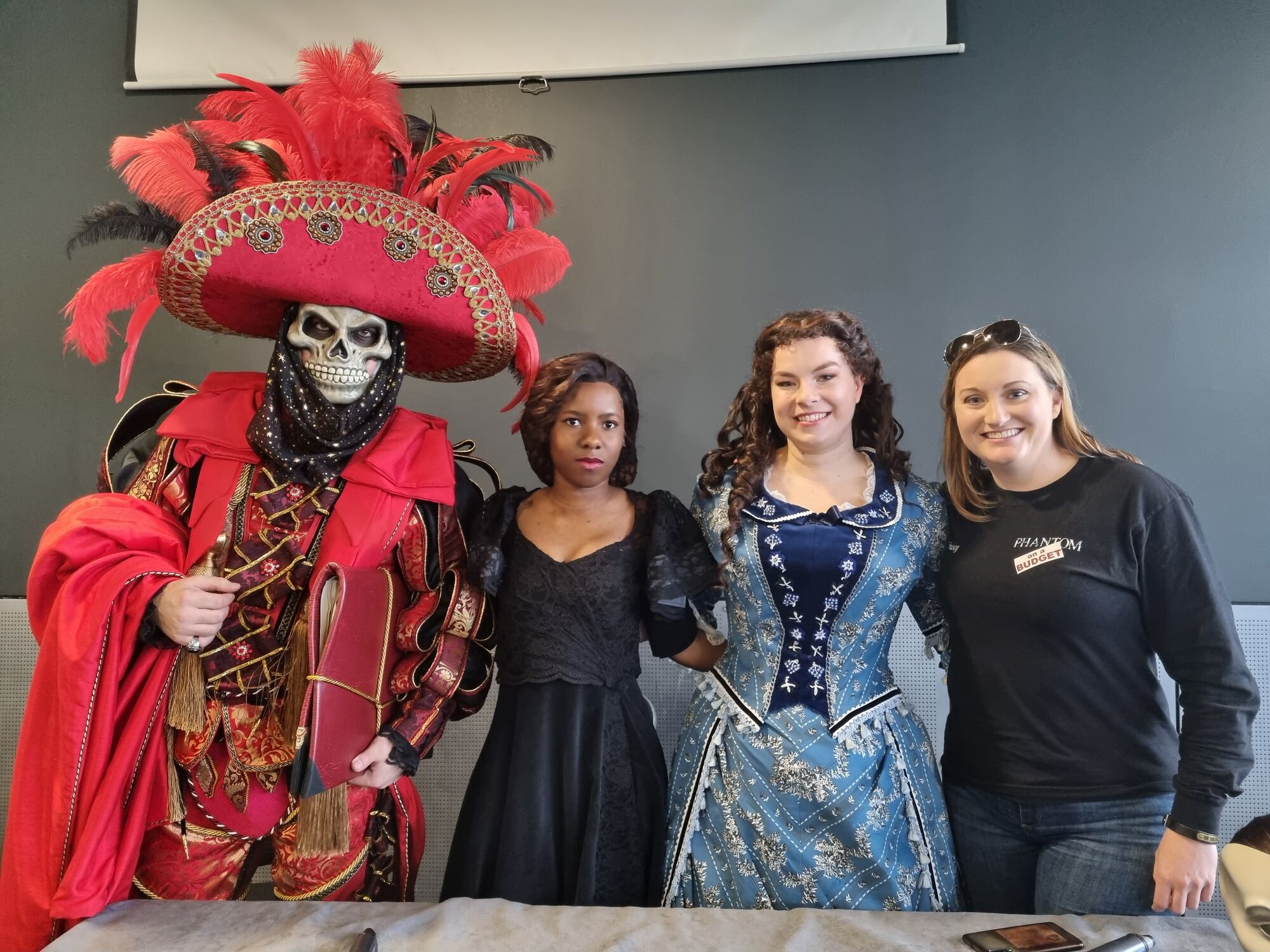 PhantomCon 2015
I attended the first-ever PhantomCon in August 2015, and hosted a costuming panel with Viscountess Designs. Check out the full video below for fantastic tips and information about getting started in Phantom costuming!
Costume Planning
It's important to put time and effort into planning your costume. Having a good plan will save you time and money later. Not having a plan often results in people rushing out and buying material that may or may not work. No plan usually ends up with the costume being scrapped, or the costumer needing to buy correct material and spending more money and time. Having a plan will prevent you from getting in over your head and over committing financially. Here are some things that you need to consider when planning your costume:
Vision: your dream/goal for the costume, how you want the finished product to look. How does it look in your mind's eye? Consider detail/accuracy, original vs. replica design (if replica, which production it is based off of), research materials, and construction method.

Budget: be realistic and honest when looking at financials, particularly a fixed budget (will not increase) versus a flexible budget. How much money do you have to dedicate to a project now? How much money do you have at the end of the month (that isn't already dedicated toward other expenses)? How do you plan to save additional money?

Vision and budget directly affect one another: expect to compromise on one, if not both. The more fixed one is, the more flexible the other has to be. Example: a fixed, high vision (highly detailed and accurate costume) requires a very flexible, raised budget. Conversely, a fixed, low budget requires a flexible, lower vision (meaning, you can't get a stage replica Phantom costume for $75).
Here is a great article about the cost of making or buying costumes: The Costumer's Guide: The Cost of Making or Buying Costumes
Costume Construction
There are several ways of acquiring a Phantom costume. Three main ways I recommend are costume construction (do-it-yourself aka DIY), commissioning a costume, or scavenging (putting existing pieces of clothing together to form a costume).
Do-It-Yourself (DIY): constructing the costume yourself. No labor cost, but your time is still worth something! Your skill level will affect what you can do and how long it takes (a skilled costumer can do a more accurate/complicated project faster than a less skilled person). Less experienced people may need more material due to mistakes (and that results in an added cost in both time and money). Building a costume yourself requires extensive research regarding design, construction, and materials. Do not rush a complicated project, try to research/educate yourself as much as possible before working on actual materials (use muslin mockups, etc). Measure twice, cut once!

Commissioning: hiring someone else to make your costume. Commissioning comes with an additional labor cost. Please keep in mind that commissioned costumes will be significantly more expensive because of this! However, also please keep in mind that is how it should be. Experienced, talented costumers' time and talent is worth something, so please do not expect them to make you a costume for minimum wage or less. I suggest using experienced Phantom costumers if you're looking to do a replica costume from a movie or the stage show. Why? Because these Phantom-specific costumers are already familiar with most costumes from the show, familiar with materials and sources, patterns, construction methods, etc. They are also usually able to work from a distance with online correspondence. If you do not use a Phantom-specific costumer and hire a general costumer/cosplayer to make your costume, expect to have to provide them with reference and research materials for them to use if you want a specific replica, as they may not be familiar with Phantom costumes.

Scavenging: putting costumes together from existing clothing pieces. No sewing required! Just need patience, a good eye, and the ability to think outside the box. This is how I found my costume pieces prior to 2015. I've used a combination of modern formal wear and antique, period (1880s) formal wear purchased online. Scavenging is a great option for men's clothing (Phantom, Raoul, Managers, etc) due to the more generic nature of men's suits. Conversely, scavenging is a bad option for more specialized costumes, such as ladies' period dresses. This method is not highly accurate for replica costumes; minor alterations can be made to costume pieces to make them look more authentic, but because they're not built to be replicas, they will always be somewhat limited. Alternately, if you are not concerned with accuracy, alterations are not necessary and you can use them as is. Easy! But where can you find pieces to make a costume out of?


Local: Thrift stores/Goodwill/Salvation Army, bridal stores, bazaars, tuxedo rental shops, local theatre group sales, high school/college theatres

Online: eBay, craigslist, Facebook groups, etsy



General Costuming Advice
Have no fear

Do not be afraid of making mistakes. You will make them

Do not be afraid to do something new/different. Own your vision, do not feel like you must copy what has been done

Be realistic!

Do not plan beyond a budget if it is fixed

Do not expect perfect results if you have never sewn

Do not expect to find specialty costumes (ie. Star Princess, Aminta, etc) at thrift stores
My Earlier Phantom Costumes (2004-2015)
I was extremely fortunate to have had incredible luck over the years finding great pieces through scavenging. My first Phantom costume (2004) consisted of a riding coat that I already had, some dress pants I also already had, a $5 plastic mask, some basic makeup, and a new fedora (which cost the most!). I think everything cost about $50 total. The next version of the costume (2004-2006) was made up of a $15 old rental tailcoat that I bought from a tuxedo rental warehouse. I bought an antique waistcoat off eBay and found the trousers at a theatre sale. All this probably cost about $75 total...This was the costume I was wearing when I was recognized by Marvin Hamlisch and the National Symphony Orchestra during a concert! Here I am with former Toronto Phantom (u/s), Doug Labrecque, and US Tour/Broadway Carlotta, Anne Runolfsson!
My next costume was an antique (circa 1880s-1900s) tail suit that I purchased for $100 on eBay. It came with the tailcoat, matching trousers and waistcoat, and two more waistcoats (a great deal!). The tail coat featured a lovely cut and detailing, including tail pockets. Here is the matching waistcoat. This is the costume I wore for my 2009 photoshoot. It was finally retired in 2015!
My Current Costume - July 2015
After nearly ten years of using the pieces I scavenged, I decided to step up my Phantom costuming game in 2015 by commissioning a beautiful replica Phantom tail suit from Enchanted Sea Studio. This is a full replica of the stage costume, inspired by the early American production costumes. I had some additional alterations done in 2016 by Ré Teague Studio, who does incredible work. Below is a photo and a video costume tour from 2015, check them out!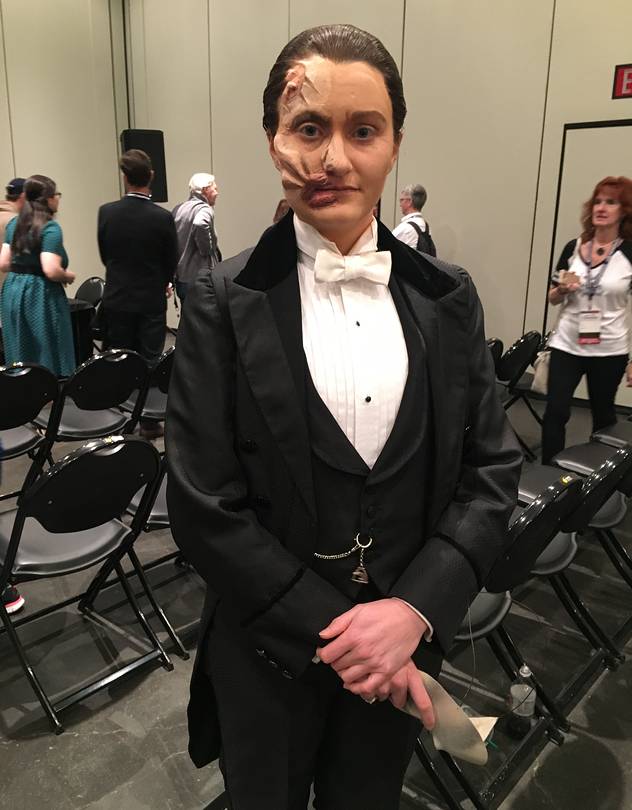 (Me in my current costume, BroadwayCon 2017. Photo: Wall Street Journal)

The Mask
My mask is a vacuformed plastic, full Broadway replica mask, made by a former acquaintance of mine. If you want to learn more about masks, check out my Making the Phantom's Mask page!
If you are interested in purchasing a mask, I highly recommend Longshore Masks. He makes a variety of different styles from various shows and movies, and produces a professional quality mask at a reasonable cost. Studio D FX also produces various masks styles and full Phantom prosthetics.